When I Dye My Hair Blonde It Turns Red
We may earn commissions for purchases made through links on our site. Learn more on our about us page.
If you're dying your hair blonde, you might have noticed something strange after taking a shower. Your hair has turned red. Unfortunately, this is one of the darker-haired people's most common problems.
It can be frightening and quite embarrassing as well, right? But, I mean, this is something that could be easily fixed if you had the right information to back your reasoning up. After all, it's your hair, and you want it to look the way you like.
Read on to see why it happens and to avoid happening again.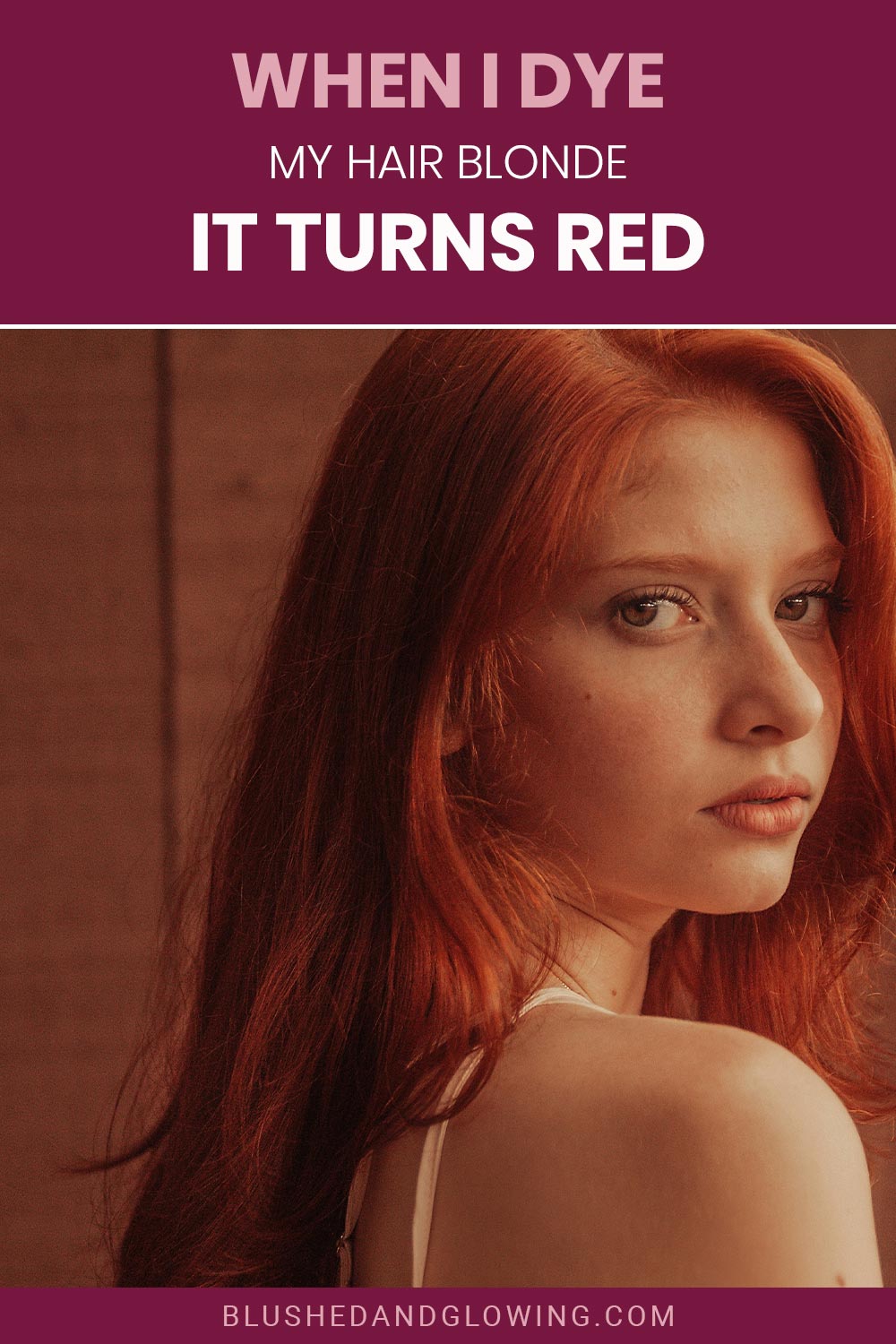 Why Does it Happen?
If you don't know already, darker hair can not just be dyed blonde without extra work. This is because the molecules in the darker hair already have orange and red undertones in them.
So when mixed with the blonde hair dye without any preparation, you will experience red or another color that you did not want.
Does it Happen to Everyone?
It happens mostly to people with darker hair (even dirty blondes can experience this) who attempt to dye their hair without any preparation. Most people would go to a professional to get their hair done adequately when it comes to being a blonde.
If you are experienced in dying your own hair blonde, you would know that there is a process to go from darker hair to blonde successfully.
How Can You Avoid it?
You can avoid the red appearance by preparing your hair. If you are doing it at home, here's how to do it.
The first step, bleaching
If you're planning to go from dark to light, you'll want to start with some good old-fashioned bleach. However, if you want to go from black to blonde, we recommend using a product that includes ammonia and peroxide in equal parts.
Conditioning is important
The next step is conditioning. You can do this with a deep conditioning mask or by using a leave-in conditioner after washing your hair as normal. This step will help protect your hair while also making it more manageable for styling in the long run!
Toning
Next up is toning. This will help remove any unwanted red or yellow tones in your hair and make sure that it's ready for highlights or lowlights (depending on what look you're going for). You can do this either with an at-home toning kit or by visiting your local salon!
Finally, a heat protectant
Finally, we recommend applying heat protectant before styling or straightening your new blonde locks! This will help keep them healthy and shiny until they grow out enough for another touch-up that you do yourself or with your stylist!
Can You Get Rid of It?
There are various ways to eliminate unwanted red tones in your hair. Here's how you can get rid of it:
Use color canceling tones that neutralize red
Dye hair to ash color to help tone down the red tones
Dye your hair darker, and it'll get rid of the red undertones
Use a hair color corrector
These are some proven methods you can use to get rid of the red tones. However, if it still intimidates you, visit your hairstylist. She or he can help get rid of the red tones without you having to do anything.
What Shampoo gets Rid of Red Tones?
If you are taking the DIY route to get rid of red tones, then you need to know about the shampoo that gets rid of it. Here is the shampoo that will help and is raved by many users:
Matrix Total Results Dark Envy Color-Depositing Green Shampoo
Not only is it a popular brand, but this shampoo won the breakthrough award at Allure's Best of Beauty Awards in 2020. It is also affordable, which will save you money at the salon, which gets very expensive.
It costs just $14 versus the hundreds that you may spend at the salon. 95% of users have reported that after one wash, most and all the red tones have been "washed out." It helps that it smells nice, too, as it has jasmine, cedar, and citrus.
It is not a normal shampoo, as it contains a dye that neutralizes the red tones. You'll also have to wait 3-5 minutes before washing it out, so you'll have to occupy your time in the shower while waiting for the shampoo to take effect.
Final Thoughts on Dying Hair Blond Turns Red
You're not alone if your hair turns red when you really want to be blonde. This is a common issue among many hair dye DIY'ers, and it can be easily fixed.
So whether you want to do the DIY methods or go to a professional, know that you will have the color you want back, and your hair will stay healthy throughout this process!