How to tell if foundation is water-based?
We may earn commissions for purchases made through links on our site. Learn more on our about us page.
Many foundations on the market contain products like oils or silicone. However, the purpose of water-based foundations is not to carry those ingredients, and if the product does have those ingredients. 
It's important to note that the formula is not based on those products but instead on water.
When trying to configure if your foundation is water-based, the label will typically enlist the product's primary ingredients. Foundations can be water-based, silicone-based, and even oil-based. Depending on your skin type, each of these will tailor to your beauty needs.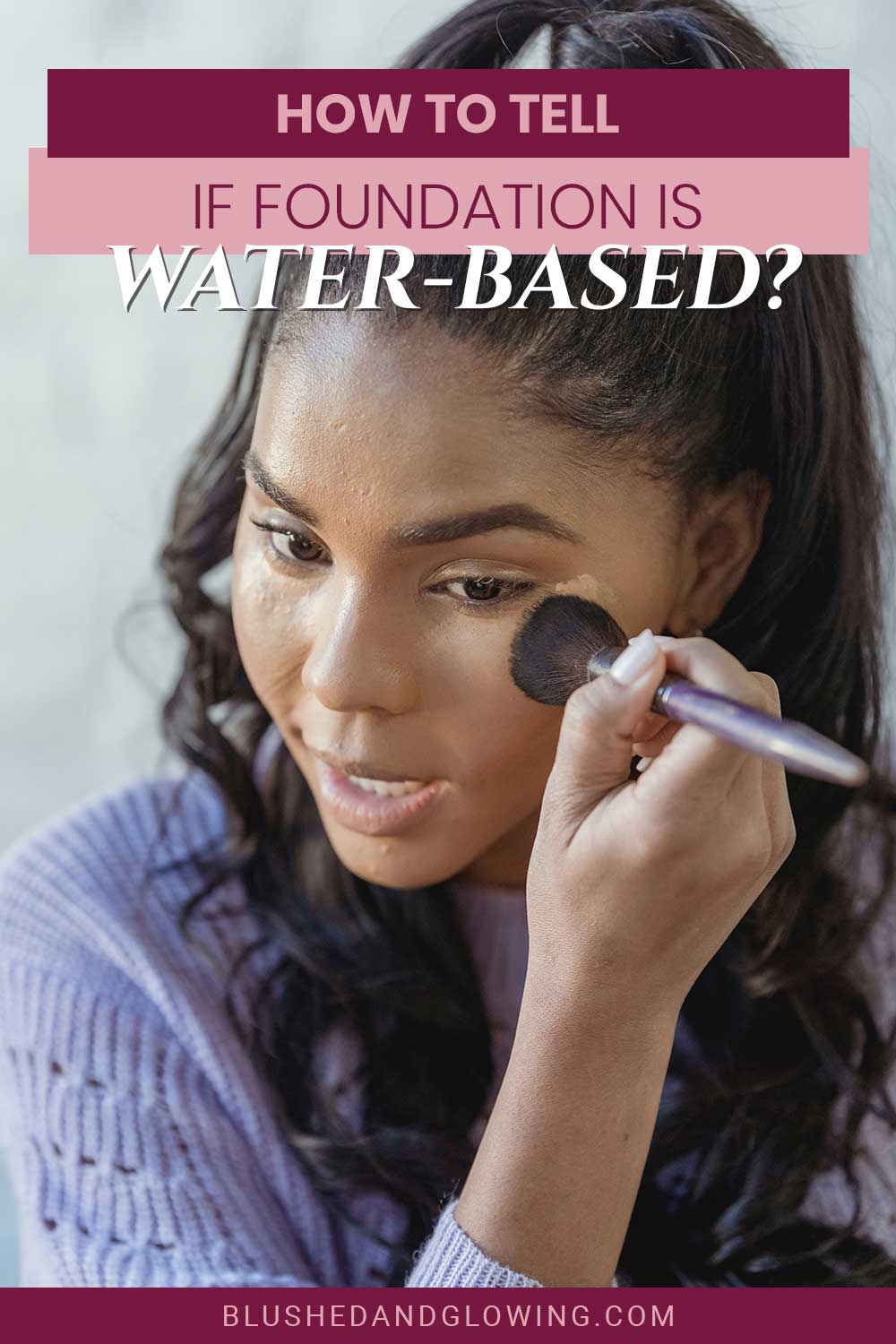 Which Foundations are Water-based?
Water-based foundations are ideal for those with dry, sensitive skin. Compared to oil and silicone-based, these formulas are known to reduce the severity of breakouts, which is great for those of us who are acne prone. See the list below for some water-based foundations.
Clinique Even Better Makeup SPF 15 Foundation

Neutrogena Skin Clearing Oil-Free Acne And Blemish Fighting Liquid Foundation

Clinique Stay Matte Oil-Free Makeup
Which Foundations are Not Water-based?
Water-based foundations are great, but some may prefer oil or silicone-based foundations, which have benefits of their own. 
For example, oil-based foundations offer a smoother consistency, while silicone-based foundations offer a barrier preventing any moisture from escaping your skin.
Oil-Based Foundations:
Alexandra De Markoff For Women Countess Isserlyn Liquid Makeup

Physicians Formula The Healthy Foundation With SPF 20

Kosas Tinted Face Oil
Silicone-Based Foundations:
MAC Studio Fix Fluid SPF 15

Maybelline Fit Me Matte + Poreless Liquid Foundation Makeup

Max Factor Long Lasting Performance Foundation
What if You Still Have Questions about Your Foundation?
If you are ever unsure, it's always important to ask questions. There are so many resources to utilize if you have further questions regarding your foundation. Start with your local beauty outlet, and stores will often have an employee on the floor that is educated on makeup.
Beauty gurus are the best place to find answers to any questions you have. Depending on the foundation's company, they might have customer service representatives online, or in-store that can assist you. 
Is a Water-based Foundation Better?
Water-based foundations are considered to be better for your skin. This is because they are often oil-free, which lowers the chances of breakouts, which is the biggest win for the industry. However, deciding if water-based foundations are right for you solely depends on your skin type.
Those with dry, sensitive skin will find water-based foundations are better for them. In addition, those who are prone to acne breakouts may also find a sense of relief when using water-based foundations.
Final Thoughts on the Water-based Foundation
Water-based foundations are ideal for those with dry, sensitive, acne-prone skin. When configuring if your foundation is water-based or not, it's important to read the label. Most foundations will state whether the formula is water-based or not.
Some brands like Neutrogena and Clinique carry some good quality water-based foundations. However, there are always those who carry foundations that are not water-based but instead oil and silicone-based, such as MAC or Maybelline.
Every brand carries a variety of foundation lines with different base ingredients. While there may be top-rated foundations – everyone's skin type is different. Therefore, trial and error are necessary to finding the perfect foundation for you.