Neutrogena Oil-Free Acne Wash vs. Pink Grapefruit
We may earn commissions for purchases made through links on our site. Learn more on our about us page.
Are you struggling with acne and looking for a perfect facial cleanser to help clear up your skin? You're not alone! Acne can be a real pain in the well. You know where we are going, but luckily, plenty of products are out there to help you combat it.
There's no doctor because there are so many it may be overwhelming, but today, we'll look at two popular facial cleansers to help you narrow down your selection. Those two are the Neutrogena oil-free acne wash and the Neutrogena Pink Grapefruit.
We're going to compare these two products so you can determine whether they're right for you. So if you are desperate for an answer to your acne problems, keep reading, and we hope we can help you just a little!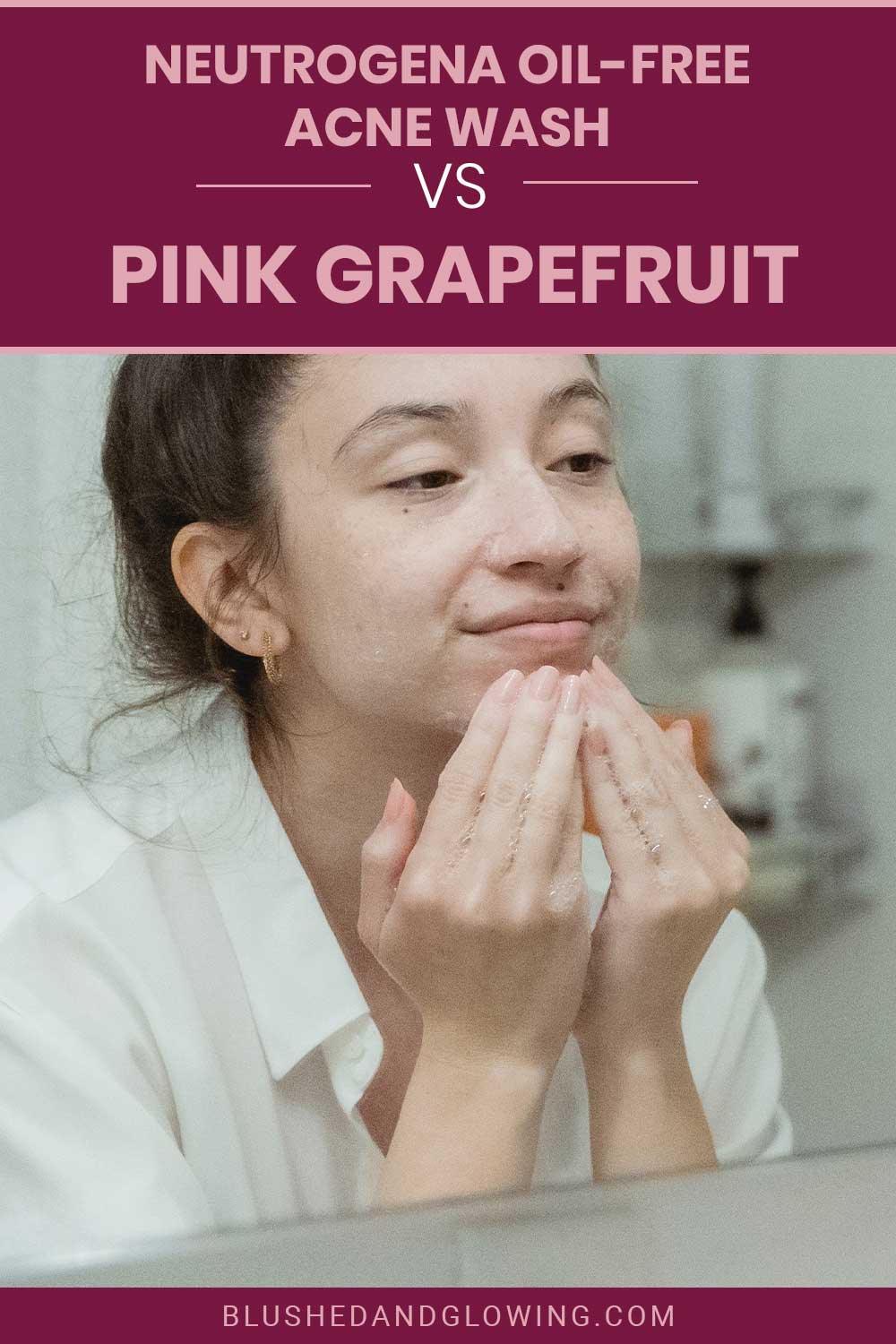 What are the Similarities?
At first glance, the Neutrogena Oil-Free Acne Wash and Neutrogena Pink Grapefruit might seem like very different products. But the truth is they share a lot in common. Here are some of those similarities:
They both are specifically designed to fight acne.
Each has a gel-like consistency and lathers up nicely.
Both of them are gentle enough for daily use.
They are both made by a well-known and trusted brand in skincare.
What are the Differences?
Now that we have an idea of a few similarities, we need to look at the differences. And there are some very distinct differences between the two of them. These differences include the following:
The scents are very different. Nutrient oil-free acne washes and neutral and fragrance recent while the pink grapefruit has a citrusy grapefruit scent
The type of acne that they're used for is different as well period nutriment oil free acne wash is great for an all-purpose cleanser. It also helps to prevent and treat mild to moderate acne.
The pink grapefruit, on the other hand, is designed to target more stubborn acne like blackheads and whiteheads.
The ingredients are different. While both contain silicic acid, Neutrogena Pink Grapefruit also contains benzoyl peroxide.
Pros & Cons: Neutrogena Oil-Free Acne Wash vs. Pink Grapefruit
Making any type of decision on products to use for your health is challenging. So like many other people, we thought we'd make a list of pros and cons and help you measure and compare these two products.
Oil-Free Acne Wash
Pros:
Gentle and non-irritating formula
Fragrance-free
Contain salicylic acid
Affordable price point
Cons:
It may not be as effective for more severe acne
Does not contain additional acne-fighting ingredients
Some may find the neutral scent unappealing
Pink Grapefruit
Pros:
Contains both salicylic acid and benzoyl peroxide
Has a refreshing grapefruit scent
It can help improve skin texture and tone
Available in a variety of formulations
Cons:
The added benzoyl peroxide may be too drying and irritating for some
More expensive than the oil-free acne wash
The citrus scent may be too strong for some individuals
Which One Has More Natural Ingredients?
Both of these acne washes are made with a mix of natural and synthetic. However, nutrient oil-free acne wash contains a higher percentage of natural gradients than the Neutrogena pink grapefruit.
Neutrogena Oil-Free Acne Wash contains natural gradients such as chamomile, aloe vera, and sage extract, which can help soothe and nourish the skin.
It also contains a blend of natural fruit extracts comma including lemon, apple, and grapefruit, which can help brighten and even out the skin tone.
The Neutrogena Pink Grapefruit contains more synthetic ingredients. While it contains some natural regions, such as great vitamin C production, they are not as prevalent in the formula as in the other wash.
That being said, it's important to remember that just because a product contains more natural ingredients doesn't necessarily mean it's better or more effective for your skin.
Which One Is More Versatile?
So when it comes to the Neutrogena Oil-Free Acne Wash and Pink Grapefruit, both have their strengths, but Neutrogena oil-free acne wash edges out as the more versatile option.
Neutrogena oil-free acne wash can be used by a variety of skin types, from oil and acne prone to dryness and sensitivity.
Its gentle formula and non-irritating ingredients make it a great option for everyday use, and its actual properties can help improve the overall texture and appearance of the skin.
On top of that, it can be used on both the face and the body making a great all-purpose cleanser for those who want to simplify their skincare routine.
Though Neutrogena Pink Grapefruit is a great option for those with more severe acne concerns, Neutrogena oil-free acne wash is the more versatile of the two, suitable for a wider range of skin types and concerns.
Final Thoughts on Neutrogena Oil-Free Acne Wash Vs. Pink Grapefruit
Each of these formulas and products is designed for specific situations. As a result, they come with unique strengths and weaknesses.
But if you're looking for a more all-purpose option, you're going to want to go with the Neutrogena oil-free acne wash. In the end, though, the decision between which one is right for you depends on you and your needs.