Can you dye your black hair blue?
We may earn commissions for purchases made through links on our site. Learn more on our about us page.
Although black is the darkest color to work with, it's still possible to dye it blue – and any other colors you might desire. However, it won't come easy. There are lengthy, time-consuming steps you need to take in order to achieve the color you're after.
It's important to note that doing this by yourself at home if you are not a professional – might cause damage to your hair. Therefore, searching for a hairdresser in your area with good ratings is highly recommended. 
Be sure to explain what you want to be done as well as the current conditions of your hair. This will help your hairdresser get a better idea of what you want and how long it's going to take. It will also allow you to get a better idea of how much it will cost.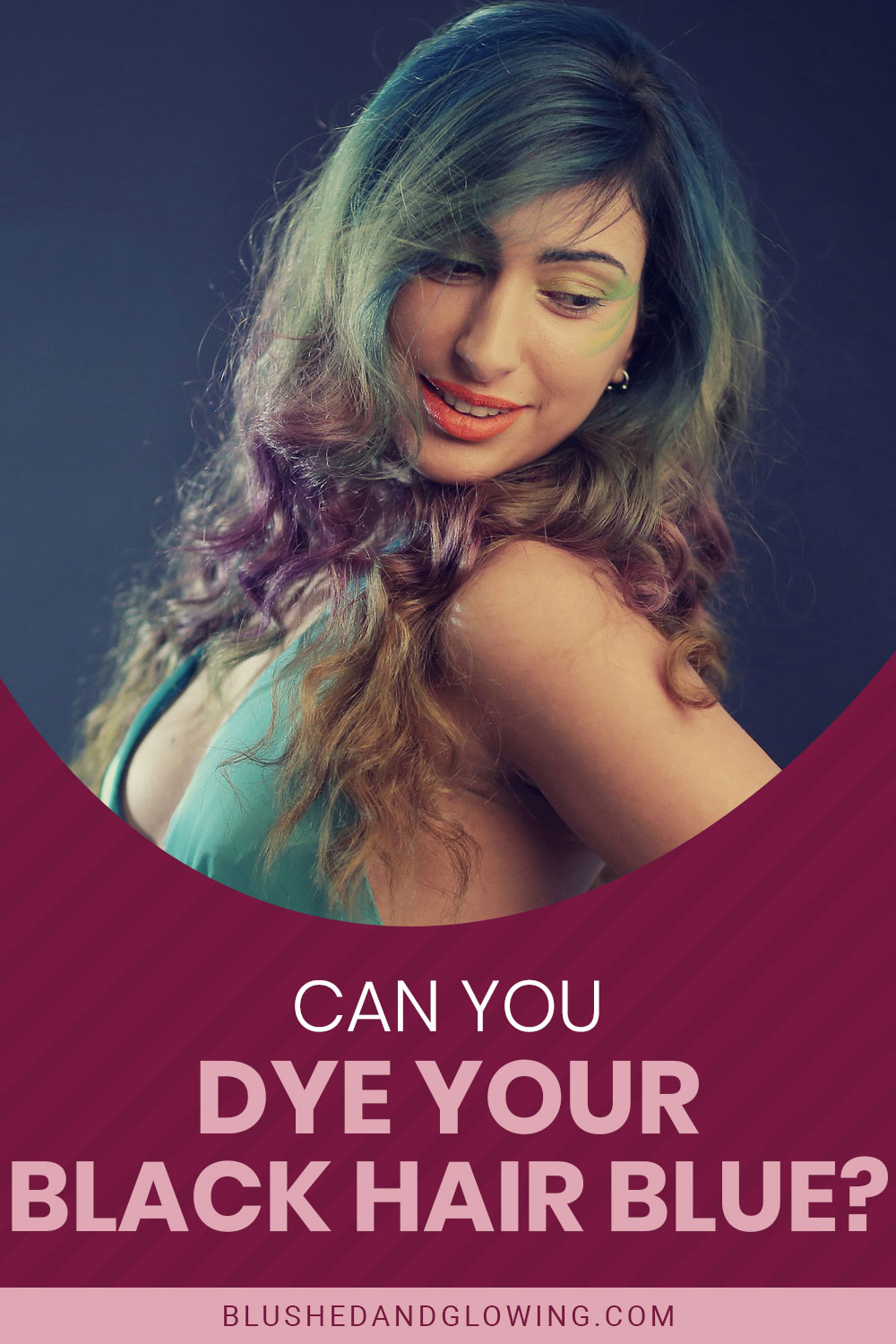 What Do You Need to Do Before Dyeing Your black Hair Blue?
Before dying your hair blue, the steps you need to take depend on how prominent you want the color to show. For example, if you have black hair and want more of a blue tint, there are really no further steps to take except those on the box dye.
However, if you are looking for a color to be blue – not just a tint – it's important to bleach dye your hair first. Allowing the hair to become lighter in color, which helps to make that blue color more prominent. 
Note that if you are not a professional, you could severely damage your hair. Be sure to always follow the directions of the products you use to bleach, dye, or tone your hair to avoid fatalities. 
How Long Does it Take to Dye Your black Hair Blue?
The time it takes to turn your hair from black to blue can vary greatly on multiple factors (listed below). 
Note that the time will average out anywhere around 45 minutes to an hour. Give yourself plenty of time to complete the dying process, for your hair may need more or less time.
Factors that could vary the amount of time to complete the process are listed below. Take these into consideration, especially if you are dying your hair at home and not getting it done professionally at a salon.
Hair type (curly, thick, thin, etc.)

Hair Color

Hair history (virgin hair, previously box dyed, hair's natural color, etc.)
Is Dying Your Black Hair Blue Going to Damage Your Hair?
The chances of your hair getting damaged also depend upon a few different factors, including the status of your hair before dying it. If your hair is already damaged, dying it any further will most likely result in your hair being more damaged.
If your hair is not in good condition, meaning you have a lot of breakages or split ends – there's a good chance dying it a color in which you need to bleach it first could result in hair damage. If you are not confident in your skills, make inquiries to a salon with good ratings.
When is the Best Time to Dye Your Black Hair Blue?
Consider dying your hair when it's dry but also when it's oily and needs a wash. The oils produced by your scalp will assist in protecting your hair from further damage, especially when you are bleaching the hair. 
Do not dye your hair too often. If you dyed your hair less than two months ago – refrain from dying it again too soon. Allowing your hair to grow out will allow for a clean slate for dying your hair. A clean canvas is prime for fresh hair color.
Final Thoughts on Dying Your Black Hair Blue
Before dying your beautiful black hair to that majestic blue color, you've been dreaming of, be sure to bleach dye your hair. This will assist in achieving that prominent color you've been wanting. Colors show up better on lighter hair!
The entire process could take up to an hour but will also vary depending on your hair type and condition. Dying your hair blue could damage your hair, just as dying your hair at all risks damaging your hair. This is mainly due to the bleaching process, after all. 
Hair bleach carries harsh chemicals that are bound to damage your hair – especially after multiple uses. One way to protect your hair during the bleaching process is to allow your hair to become oily and greasy. Natural oils are more likely to protect your hair from damage.