Cetaphil vs. Neutrogena Oil-Free Acne Wash
We may earn commissions for purchases made through links on our site. Learn more on our about us page.
If you struggle with acne-prone skin, you are well aware of how difficult it can be to find good solutions. Cetaphil and Neutrogena's oil-free acne wash are two popular choices that you may have seen. Both products are touted as successful acne treatments.
But which one is better? To assist you in deciding which product could be the greatest fit for you and the demands of your skin, let's compare these two items and examine each one's ingredients and effectiveness.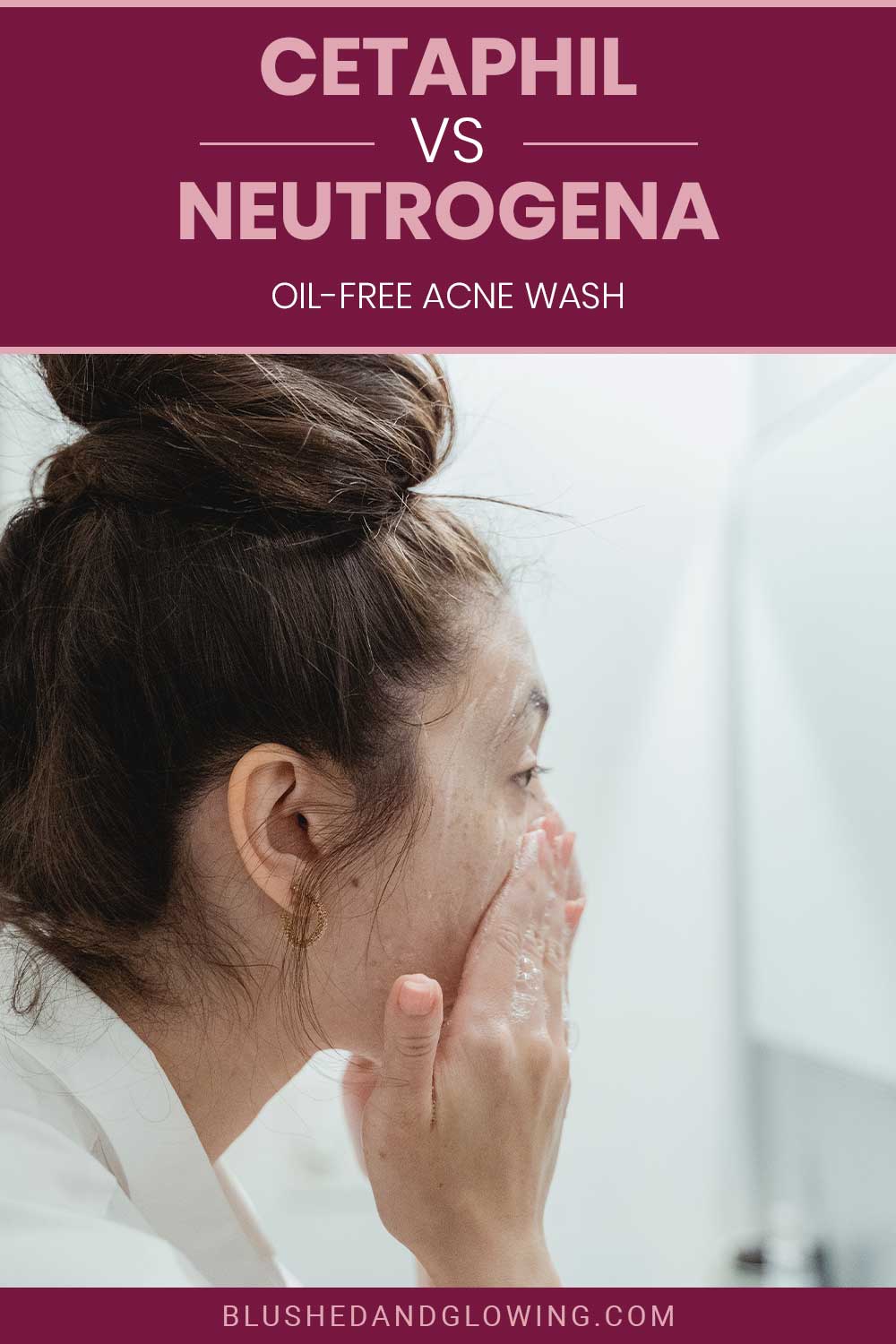 What are the Similarities?
When it comes to skincare, there is no shortage of products to choose from. So if you're looking for a solution for acne prone skin, chances are that these two options have come your way.
While these products may have different brand names, they share some similarities worth noting. Here are some of those similarities:
Both contain salicylic acid, a key ingredient in acne-fighting products.
Each is gentle on the skin.
They are widely available and affordable.
What are the Differences?
While these two products share similarities, they have some significant differences. These differences could be the determining factor in choosing which one is the better fit for you. Here are those differences:
The formula differs, with Cetaphil being a gentler cleanser that's good for all skin types.
Levels of salicylic acid differ. Neutrogena oil-free acne wash contains 2% size salicylic acid, while Cetaphil has a much higher amount.
The texture is different as well, with Cetaphil being a creamier texture and the Neutrogena product being more of a gel.
The smell of the two is also very different. Neutrogena has a light citrus scent, while Cetaphil is fragrance-free.
Pros & Cons: Cetaphil vs. Neutrogena Oil-Free Acne wash
So how do you know which one is the best one for you? Well, for us, one of the best ways to do that is to take a look at the pros and cons of each, and that's exactly what we're gonna do below:
Cetaphil
Pros:
Suitable for all skin types
Non-drying and non-irritating
Leave skin feeling soft and smooth.
Fragrance-free
Available everywhere
Cons:
Lower concentration of salicylic acid
It may not provide enough oil control for very oily skin types
Neutrogena Oil-Free Acne Wash
Pros:
Formulated for acne-prone skin
Salicylic acid is high
Gel texture can leave the skin feeling refreshed and clean
Widely available
Cons:
It can be more drying and irritating for some people, especially those with sensitive skin
The citrus scent may not be suitable for those with fragrance sensitivities
with titles like the brightening not recommended for dry or sensitive skin types
Which Ones Have More Natural Ingredients?
When scanning her products, natural ingredients have become increasingly popular in recent years. While both Cetaphil and Neutrogena oil-free acne wash contain some natural ingredients, one brand may have more than the other.
Cetaphil contains a few natural ingredients, including aloe vera, which is known for its moisturizing and soothing properties. It also contains glycerin, a natural humectant that helps to hydrate the skin.
However, it's worth noting that acidophil is not marketed as a natural product, but it also contains some synthetic ingredients.
On the other hand, Neutrogena oil-free acne wash does not contain many natural ingredients. However, it contains salicylic acid, made from dried Willow bark. The rest of the ingredients, though, are primarily synthetic.
Overall both Cetaphil Neutrogena oil-free acne washes contain a few natural ingredients. It is important to remember that natural gradients do not necessarily mean a product is better or more effective.
It ultimately comes down to personal preference and what works best for your skin type and concerns.
Which One Is More Versatile?
Versatility is key when you're looking for any type of product. Cetaphil initiative oil-free acne wash both has its strengths and weaknesses.
People with all skin types can use Cetaphil. Its gentle form uses sensitive skin, while its hydrating properties make it a good fit for those with dry skin. It can also be used as a makeup remover, adding to its versatility.
Neutrogena oil-free acne wash is more specialized in its use. It's specifically formulated for people with other skin types. However, if you struggle with acne, this product is a great choice because it contains a higher concentration of salicylic acid than Cetaphil.
Final Thoughts on Cetaphil Vs. Neutrogena Oil-Free Acne Wash
Each of these products has unique advantages as well as disadvantages. For example, Cetaphil is kinder to the skin when compared to Neutrogena oil-free acne cleanser. In the end, your needs will determine which choice is best for you.